Brain Immune Atlas
About
The brain immune atlas provides a resource and visualization tool for assessing the single-cell RNA sequencing datasets generated by the Movahedi lab, which capture human and mouse brain immune cells in health and disease. You can visualize the expression of individual genes and/or download differentially expressed gene lists that define immune cell clusters. Gene-cell count and cell annotation matrices can be downloaded as well. Currently, our website hosts datasets originating from five publications:
Van Hove et al. Nature Neuroscience 2019;
Pombo-Antunes, Scheyltjens et al. Nature Neuroscience 2021;
Shemer et al. Immunity 2020;
De Vlaminck et al. Immunity 2022;
Andries et al. Acta Neuropathol Commun 2023.
1. A single-cell atlas of mouse brain macrophages
2. Human and mouse Glioblastoma immune atlas


Using the 10x genomics chromium platform, we analyzed more than 61.000 CD45+ immune cells that were obtained from whole brains or isolated border regions, including the dura mater, subdural meninges and choroid plexus. Datasets were obtained from WT homeostatic mice, conditional Irf8 knockout animals and aged APP/PS1 transgenics.
Here, we mapped the glioblastoma immune landscape in newly diagnosed and recurrent patients and in mouse tumors via scRNA-seq and CITE-seq analysis. This revealed a large and diverse myeloid compartment, with dendritic cell and macrophage populations that were conserved across species and were dynamic across disease stages.
3. Brain immune cells following peripheral endotoxin challenge
4. Brain myeloid cell atlas of mice infected with the CNS-invading parasite Trypanosoma brucei brucei

To assess for transcriptional changes in brain immune cells following acute peripheral endotoxin challenge, we sorted CD45+ immune cells from the brains of C57BL/6 mice 12 h post-PBS or LPS injection. To enrich for non-microglial immune cells that are mostly present in the brain's border regions, we separately sorted microglia and CD45+ non-microglial cells, mixed them at a 1:9 ratio and performed 10x scRNA-seq analysis.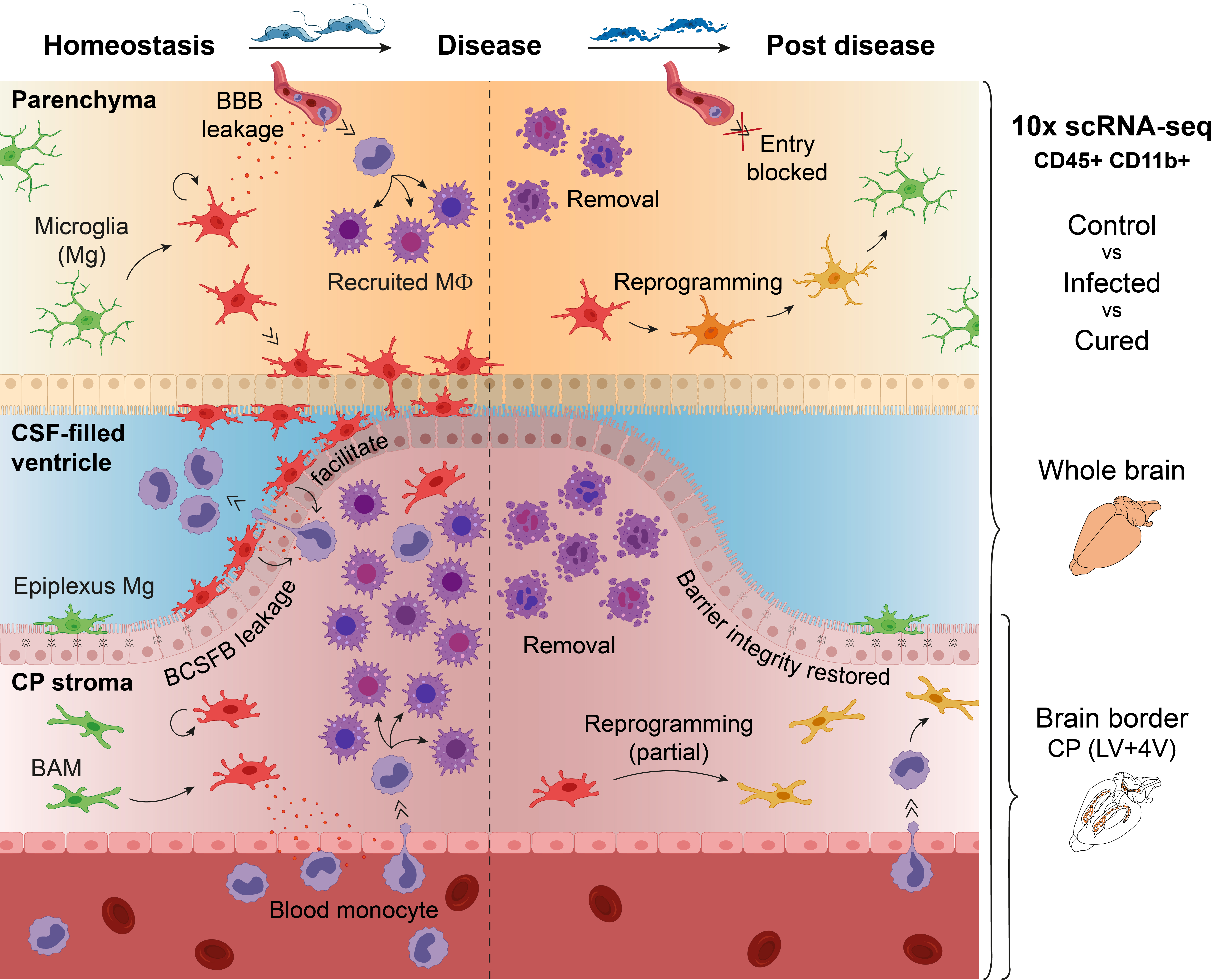 5. Retinal myeloid cells following an optic nerve crush injury and inflammatory stimulation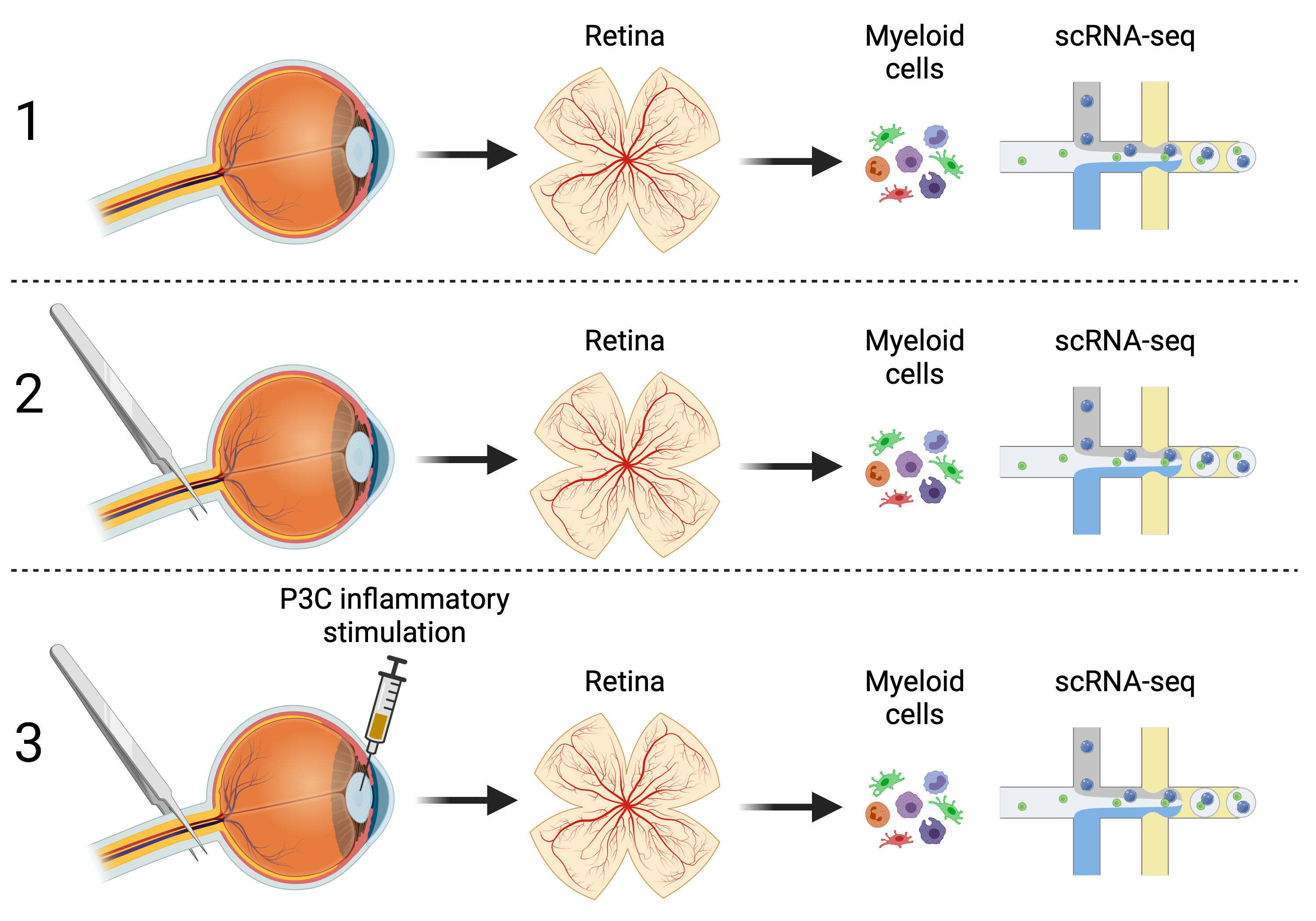 Citation
1. Hannah Van Hove, Liesbet Martens, Isabelle Scheyltjens, Karen De Vlaminck, Ana Rita Pombo Antunes, Sofie De Prijck, Niels Vandamme, Sebastiaan De Schepper, Gert Van Isterdael, Charlotte L. Scott, Jeroen Aerts, Geert Berx, Guy E. Boeckxstaens, Roosmarijn E. Vandenbroucke, Lars Vereecke, Diederik Moechars, Martin Guilliams, Jo A. Van Ginderachter, Yvan Saeys, Kiavash Movahedi. A single-cell atlas of mouse brain macrophages reveals unique transcriptional identities shaped by ontogeny and tissue environment. Nature Neuroscience 2019; 22:1021-35.
2. Ana Rita Pombo Antunes, Isabelle Scheyltjens, Francesca Lodi, Julie Messiaen, Asier Antoranz, Johnny Duerinck, Daliya Kancheva, Liesbet Martens, Karen De Vlaminck, Hannah Van Hove , Signe Schmidt Kjølner Hansen, Francesca Maria Bosisio, Koen Van der Borght, Steven De Vleeschouwer, Raf Sciot, Luc Bouwens, Michiel Verfaillie, Niels Vandamme, Roosmarijn E. Vandenbroucke, Olivier De Wever, Yvan Saeys, Martin Guilliams, Conny Gysemans, Bart Neyns, Frederik De Smet, Diether Lambrechts, Jo A. Van Ginderachter, Kiavash Movahedi. Single-cell profiling of myeloid cells in glioblastoma across species and disease stage reveals macrophage competition and specialization. Nature Neuroscience 2021; 24, 595-610
3. Anat Shemer, Isabelle Scheyltjens, Gal Ronit Frumer, Jung-Seok Kim, Jonathan Grozovski, Serkalem Ayanaw, Bareket Dassa, Hannah Van Hove, Louise Chappell-Maor, Sigalit Boura-Halfon, Dena Leshkowitz, Werner Mueller, Nicola Maggio, Kiavash Movahedi, Steffen Jung. Interleukin-10 Prevents Pathological Microglia Hyperactivation following Peripheral Endotoxin Challenge. Immunity 2020; 53, 1033-1049 e1037
4. Karen De Vlaminck, Hannah Van Hove, Daliya Kancheva, Isabelle Scheyltjens, Ana Rita Pombo Antunes, Jonathan Bastos, Monica Vara-Perez, Leen Ali, Myrthe Mampay, Lauren Deneyer, Juliana Fabiani Miranda, Ruiyao Cai, Luc Bouwens, Dimitri De Bundel, Guy Caljon, Benoît Stijlemans, Ann Massie, Jo A. Van Ginderachter, Roosmarijn E. Vandenbroucke, Kiavash Movahedi. Differential plasticity and fate of brain-resident and recruited macrophages during the onset and resolution of neuroinflammation. Immunity 2022
5. Andries L, Kancheva D, Masin L, Scheyltjens I, Van Hove H, De Vlaminck K, Bergmans S, Claes M, De Groef L, Moons L, Movahedi K. Immune stimulation recruits a subset of pro-regenerative macrophages to the retina that promotes axonal regrowth of injured neurons. Acta Neuropathol Commun. 2023 May 24;11(1):85. doi: 10.1186/s40478-023-01580-3. PMID: 37226256; PMCID: PMC10210300
Contact
The online tool is developed and maintained by Liesbet Martens (Guilliams/Scott lab) and Daliya Kancheva (Movahedi lab). We hope you will find this resource useful and we would be happy to hear about your experiences and suggestions.
| | |
| --- | --- |
| | Prof. Dr. Kiavash Movahedi |
| | Brain and Systems Immunology Lab |
| | Vrije Universiteit Brussel |
| | Laarbeeklaan 103, 1090 Brussels, Belgium |
| | kiavash.movahedi@vub.be |